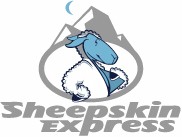 ---

Sheepskin Express is a privately funded company that sells top quality sheepskin products to the public. We always go the extra step to ensure you are very happy with your purchase.

Our Sheepskin Seat Covers have 30 day money back guarantee.

We currently ship to the United States.

Sheepskin Express's mission is to offer the best possible service and the lowest possible prices.

Established in 1999 and still growing.
Return to the Customer Service Index
View our Sheepskin Seat Covers
---
Call Us Toll Free: 1-800-399-8041
(Mon-Sun 7am-10pm EST)
---
We love our sheepskin seat covers and so will you!
Go to our Home Page

"We guarantee satisfaction."
(Click above image to view our Facebook)
Accessibility Statement | Privacy Policy
Copyright © 1999-2020 Sheepskin Express. All rights reserved.