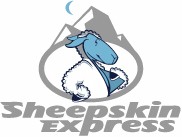 ---

Our sheepskin is from Australia. Sheepskin for our sheepskin seat covers is imported to China. The tanning process results in a country of origin change. If you have any questions about this, please let us know. Our Tailor Made Sheepskin Seat Covers are crafted with highly skilled American Labor.
Return to the Policies and Guarantees Index
View our Sheepskin Seat Covers
---
Call Us Toll Free: 1-800-399-8041
(Mon-Sun 7am-10pm EST)
---
We love our sheepskin seat covers and so will you!
Go to our Home Page

"We guarantee satisfaction."
(Click above image to view our Facebook)
Accessibility Statement | Privacy Policy
Copyright © 1999-2020 Sheepskin Express. All rights reserved.