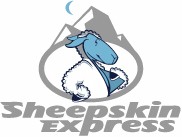 ---

Will my information be safe?
Return to the Policies and Guarantees Index
View our Sheepskin Seat Covers
---
Call Us Toll Free: 1-800-399-8041
(Mon-Sun 7am-10pm EST)
---
We love our sheepskin seat covers and so will you!
Go to our Home Page

"We guarantee satisfaction."
(Click above image to view our Facebook)
Accessibility Statement | Privacy Policy
Copyright © 1999-2020 Sheepskin Express. All rights reserved.